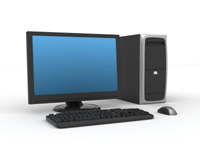 Services
Best Tech Computer Services has been providing both in-house and on-site service to home and corporate offices in the Greater New Orleans area since 1995. Best Tech offers a wide range of products including custom built computers, file servers and high performance gaming machines. Best Tech performs repairs on all makes and models of computers, laptops and printers. We also offer other services including consulting, network configuration, and data protection and recovery.
In-house & On-Site Services
DSL Set Up
Internet Installation
Network Maintenance
Desktop Rollouts
PC/LAN Setup
Remote Assistance

Wireless Router Service
Software Installs
OS Upgrades/Repairs
Office Relocations
Cat5 Cabling
Data Transfer
NOTE:

Data Recovery is

ONLY PERFORMED IN-HOUSE

or at our Florida data recovery center by trained engineers who are Government Approved to recover both Secure and Classified Data.